It is a great privilege that God speaks to us. He chose to reveal his thoughts in a book. We as a church want to value God's ideas by faithfully studying the Bible and preaching the truth we discover.
We hope that the sermons at New City Wien will introduce God's view to you in a way that will lead you to a deeper appreciation for Jesus, a better understanding of life and changed hearts and lives.
You are able to filter sermons by passages, series etc.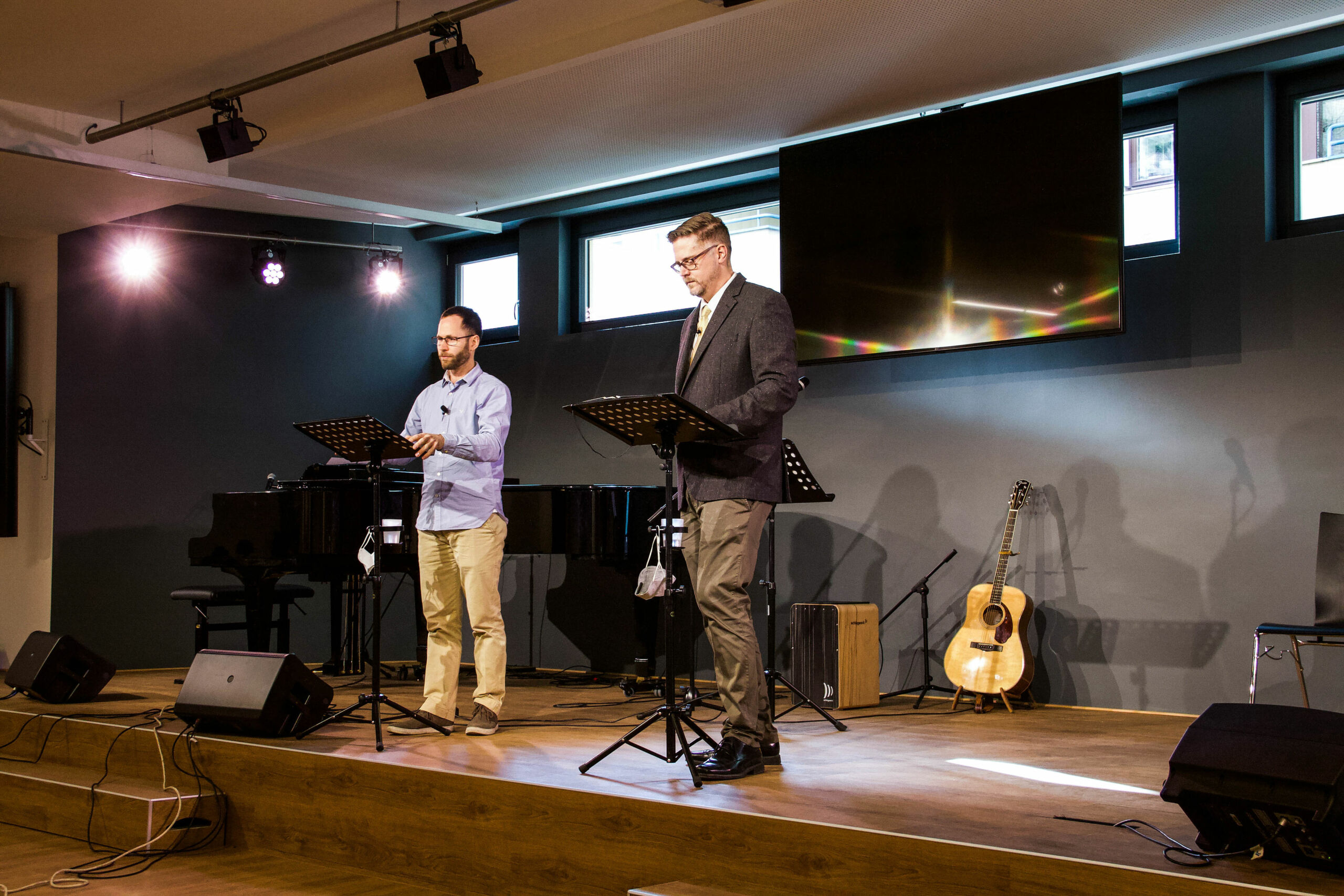 Book:
Leviticus
(1),
Numbers
(1),
Joshua
(1),
1 Samuel
(1),
2 Samuel
(1),
Psalm
(1),
Isaiah
(1),
Jeremiah
(1),
Jonah
(3)
, Matthew (2), Luke (6), John (1), 2 Corinthians (1), 1 Thessalonians (1), Revelation (2).
Date
Title
Passage
Preacher
Series
December 26, 2021
Unlikely Women in the Genealogy of Jesus :: Unwahrscheinliche Frauen in der Genealogie von Jesus
Matthew 1:1-16
Brad Hunter
December 12, 2021
The Grace of Our Lord Jesus Christ :: Die Gnade unseres Herrn Jesus Christus
2 Corinthians 8:7-9
Brad Hunter
Advent
November 28, 2021
For the Renewal of the Nations :: Zur Erneuerung der Nationen
Matthew 2:1-12
Brad Hunter
New City Wien Vision / Advent
November 7, 2021
For the Renewal of Vienna :: Zur Erneuerung Wiens
Revelation 21:9-27
Brad Hunter
New City Wien Vision
November 1, 2021
Jonah 4:1-11 :: Jona 4,1-11
Jonah 4:1-11
Brad Hunter
Church Retreat 2021 :: Gemeindefreizeit 2021
October 31, 2021
Jonah 1:17-2:10 :: Jona 2,1-11
Jonah 1:17-2:10
Brad Hunter
Church Retreat 2021 :: Gemeindefreizeit 2021
October 30, 2021
Jonah 1:1-6 :: Jona 1,1-6
Jonah 1:1-6
Brad Hunter
Church Retreat 2021 :: Gemeindefreizeit 2021
October 24, 2021
For God's Glory, Part 2 :: Zur Ehre Gottes, 2. Teil
Isaiah 6:1-8
Brad Hunter
New City Wien Vision
October 3, 2021
United in Jesus :: Vereint in Jesus
John 15:1-16
Brad Hunter
New City Wien Vision
September 19, 2021
A Community of Grace and Truth, Part 1 :: Eine Gemeinschaft der Gnade und Wahrheit, 1. Teil
Psalm 85:1-13
Brad Hunter
New City Wien Vision
September 5, 2021
Our Unshakable Foundation for Joy and Thanksgiving :: Unser unerschütterliches Fundament für Freude und Dankbarkeit
1 Thessalonians 5:13-18
Brad Hunter
Thanksgiving Service :: Dankgottesdienst
July 25, 2021
The Better King, Part 2 :: Der bessere König, 2. Teil
2 Samuel 1:1-24:25
Brad Hunter
Overview of the Old Testament: Genesis to Esther :: Überblick des Alten Testaments: 1. Mose bis Esther
July 18, 2021
The Better King, Part 1 :: Der bessere König, 1. Teil
1 Samuel 1:1-31:13
Brad Hunter
Overview of the Old Testament: Genesis to Esther :: Überblick des Alten Testaments: 1. Mose bis Esther
June 27, 2021
The Lord Your God Is with You :: Der Herr, dein Gott, ist mit dir
Joshua 1:1-9
Brad Hunter
Overview of the Old Testament: Genesis to Esther :: Überblick des Alten Testaments: 1. Mose bis Esther
June 13, 2021
In the Wilderness :: In der Wildnis
Numbers 21:4-9
Brad Hunter
Overview of the Old Testament: Genesis to Esther :: Überblick des Alten Testaments: 1. Mose bis Esther
June 6, 2021
Reconciliation with a Holy God :: Versöhnung mit einem heiligen Gott
Leviticus 16:1-34
Brad Hunter
Overview of the Old Testament: Genesis to Esther :: Überblick des Alten Testaments: 1. Mose bis Esther
May 16, 2021
Unser ewiges Zuhause: Neuer Himmel, neue Erde :: Our Eternal Home: New Heavens, New Earth
Revelation 21:1-8
Brad Hunter
Home :: Zuhause
April 18, 2021
Seek the Shalom of the City :: Sucht den Shalom der Stadt
Jeremiah 29:4-14
Brad Hunter
Home :: Zuhause
April 4, 2021
The Resurrection for Skeptics :: Die Auferstehung für Skeptiker
Luke 24:1-12
Brad Hunter
Luke :: Lukas Evangelium
March 21, 2021
A God Who Seeks :: Ein Gott der sucht
Luke 15:1-10
Brad Hunter
Luke :: Lukas Evangelium